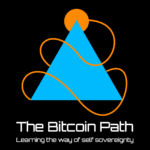 In this episode, I get to share with you conversation with Matt Hill of Start 9 Labs.
Start 9 Labs is the creator of the Embassy, which is a plug and play personal server, offering one-click installation and simple configuration of open source software services that run over Tor V3. It enables you to run Bitcoin, Lighting, Burn After Reading, Bitwarden, CUPS along with a growing number of other open source projects.
Be sure to visit www.Start9Labs.com for more information about their product offering as well as follow them on twitter @Start9Labs.
I really enjoyed talking to Matt and am extremely excited to see what the future holds for Start 9 Labs as they aspire to revolutionize the personal computing world for the sovereign individual.
With The Bitcoin Path, my goal is to grow my understanding about Bitcoin and help others do the same with podcasts and private events. In the podcasts I get to sit down for deep discussions with some of the great people in the community. The events give you the opportunity to go deeper down the rabbit hole with personal guidance from well respected Bitcoin educators.
*Intro and outro music is the song Hearts, graciously licensed to us by Blackbird Blackbird. Be sure to check out his other great songs on Spotify!