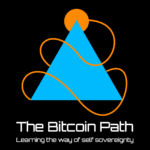 For today's podcast, I'm excited to share Cosmic Deep Dive session number 2 with John Vallis.
John is a deeply appreciated podcastor and educator in the Bitcoin community.
On his show Bitcoin Rapid Fire, John delves into the deeper side of the Bitcoin rabbit hole through long form conversations with many of the amazing people building and contributing to this revolutionary new industry.
He is a firm believer in bitcoin as the future of money and has a knack for extracting gems of profound insight in his discussions with other Bitcoiners.
Follow John on Twitter @johnkvallis.
With The Bitcoin Path, my goal is to grow my understanding about Bitcoin and help others do the same with podcasts and private events. In the podcasts I get to sit down for deep discussions with some of the great people in the community. The events give you the opportunity to go deeper down the rabbit hole in a compressed amount of time with personal guidance from well respected Bitcoin educators.
Check out our upcoming events here.
*Intro and outro music is the song Hearts, graciously licensed to us by Blackbird Blackbird. Be sure to check out his other great songs on Spotify!