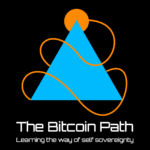 What's going on, my fellow bitcoiners!
In this episode, I'm excited to share part one of my "Meet the Miami Plebs" series. I'm sharing conversations with local Miami Bitcoiners as we approach the Bitcoin 2021 conference so that you can peer into the solid community that is growing here.
Shaun is a fellow Bitcoiner who has been leading the Bitdevs South Florida meetup out of Fort Lauderdale. It's been a pleasure getting to know him over the last few months during my time here in Miami and I really enjoyed this chat with him.
We talk about:
Shaun's background in Bitcoin up to this point.
What it's like maintaining a skeptical view of Bitcoin.
Shawn's experience with the Bitdevs meetup.
How dollars only have value because people are forced to use them.
The untold history of Bitcoin.
The recent ransomware attack on the Colonial Pipeline
Shaun's thoughts on Bitcoin and Miami.
Be sure to follow Shaun on Twitter with the handle @ShaunApps.
As always, if you want to support the show be sure to like, subscribe, and share with anyone that you think might resonate with it, and visit TheBitcoinPath.com/contact-support to learn about other events and ways to contribute.
With The Bitcoin Path, my goal is to grow my understanding about Bitcoin and help others do the same with podcasts and private events. In the podcasts I get to sit down for deep discussions with some of the great people in the community. The events give you the opportunity to go deeper down the rabbit hole with personal guidance from well respected Bitcoin educators.