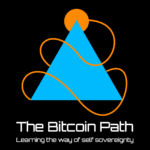 For today's episode, I'm thrilled to share session number 5 of the Cosmic Deep Dive with Erik Cason.
This is an extremely relevant discussion for the current political and economic situation. This will really help to get a higher level view of how the government overreach has developed through history as well as a pragmatic approach to how we can respond as free individuals. I hope you enjoy it!
Be sure to follow Erik on Twitter @ErikCason. Also, to read more of his excellent articles about Bitcoin, political theory, and cryptography visit https://medium.com/@erikcason.
With The Bitcoin Path, my goal is to grow my understanding about Bitcoin and help others do the same with podcasts and private events. In the podcasts I get to sit down for deep discussions with some of the great people in the community. The events give you the opportunity to go deeper down the rabbit hole in a compressed amount of time with personal guidance from well respected Bitcoin educators.
Check out our upcoming events here.
*Intro and outro music is the song Hearts, graciously licensed to us by Blackbird Blackbird. Be sure to check out his other great songs on Spotify!