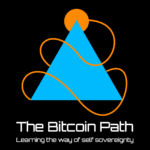 In this episode, I'm excited to share with you Session 6 of the Cosmic Deep Dive with Robert Breedlove.
For those of you not familiar with Robert Breedlove, he is an the founder and CEO of Parallax Digital and has authored many spectacular articles about Bitcoin from a deeper philosophical perspective. He is also working on his first book entitled Time. Money. Soul.
In this talk, Robert continues his elaboration of his article entitled An Open Letter to Ray Dalio re: Bitcoin. You can listen to the episode where he goes over the first few points with Anthony Pompliano here: https://www.youtube.com/watch?v=i0N9qj4gjmg
You can read his full letter to Ray Dalio here: https://breedlove22.medium.com/an-open-letter-to-ray-dalio-re-bitcoin-4b07c52a1a98
Robert and his work was a major inspiration for me to start working on TheBitcoinPath.com so it was an honor and a privilege to have him on.
With The Bitcoin Path, my goal is to grow my understanding about Bitcoin and help others do the same with podcasts and private events. In the podcasts I get to sit down for deep discussions with some of the great people in the community. The events give you the opportunity to go deeper down the rabbit hole in a compressed amount of time with personal guidance from well respected Bitcoin educators.
*Intro and outro music is the song Hearts, graciously licensed to us by Blackbird Blackbird. Be sure to check out his other great songs on Spotify!