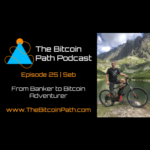 For this episode, I join Seb in the lobby of the Driskill hotel in downtown Austin Texas. Seb is an OG Bitcoiner who has used this new money to empower a life of adventure and freedom for himself and his family.
I hope you enjoy our conversation.
As always, check out TheBitcoinPath.com for more information about our projects, or any other events that are coming up!
May you live a meaningful life, and enjoy your freedom as a sovereign individual.